Our home after winter's ravage.




A few Christmas Cheer Azaleas, Indian Feather Pink Cloud (Gaura lindheimeri) that will outgrow the azaleas and fill in very nicely but can be controlled by pruning.
I guess the kids' flowers can't really be seen, they all chose an annual to plant. We also planted strawberries. I had to give the Azaleas and Pink Cloud room to grow, I'm sure it'll fill in soon. Our sky pencil has grown since last summer and our blueberry bush survived winter. It has flowers now, I hope it will yield blueberries again, my mom says I need another blueberry bush for it to cross pollinate.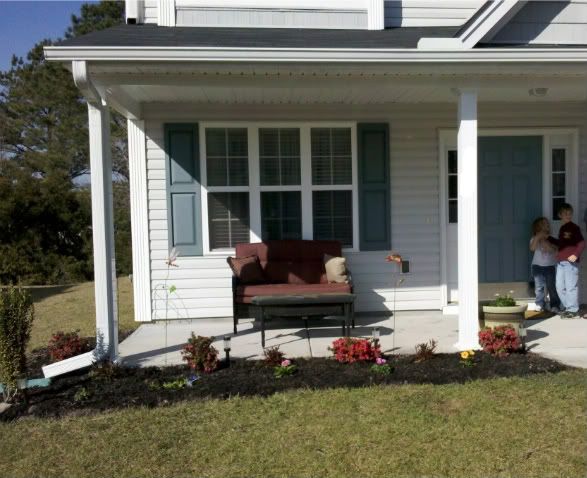 Spring 2011
We need to poly-urethane the kids' stepping stones and add them still. Our natchez Crepe myrtle is doing well, I'm going to prune it a little. It will bloom in May/June and keep blooming through September.
The kids rode their bikes and flew kites in the field next to our home. I think we all got sun today.
Okay, this is Sunday's update to the yard. I found a deal on a fountain, it was on sale and I got another 10% off because someone had purchased it and brought it back (why, no idea). I assessed it with a Home Depot employee, all the parts were there and we actually put it completely together before I left the store. He said I could bring it back if something was wrong with it as long as I kept my receipt. Sorry, I'm keeping it. A few bags of pond pebbles later and voila....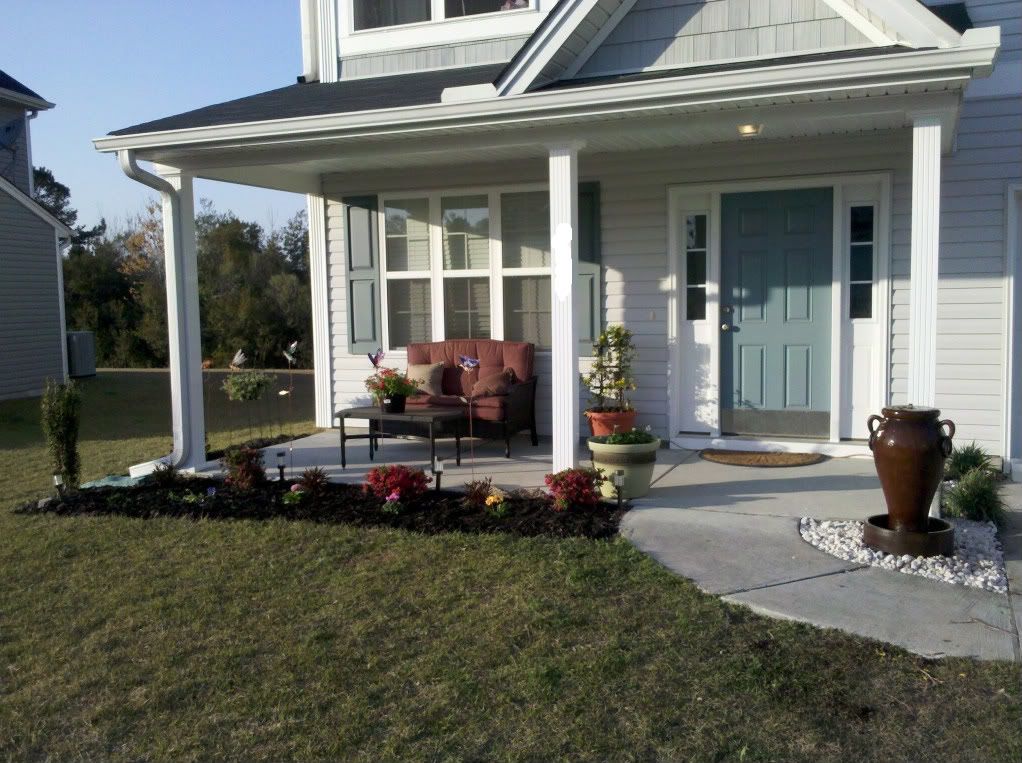 Spring 2011, final
I have the 'garden' front porch I've always wanted. It feels like a sanctuary! We can watch the kids outside riding their bikes, flying kites or just drawing on the sidewalk with chalk. Camille says we have the best curb appeal in the neighborhood now. Wait until the neighbor on the corner starts working out in his yard- I've never seen a man who works out in his yard every. single. day. doing something the way this man does.
I look at Saturday morning's picture of our barren front and can't believe how different it looks. Wait, yes, I can believe it- my arms and back is feeling all the difference.