Jessica said I had to post. I don't know what she wants me to post about. I was thinking I would just get on here and write a bunch of pause dots... what?...
I spent the week painting, cleaning and organizing our garage. Jessica said she wanted to be able to pull her car into it and she hasn't been able to since we moved here last April because the garage was our unseen storage unit.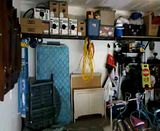 Wait, I have to download
Photobucket
to my Droid to get the picture to upload. Jessica has been doing something else to get pictures on here. Last year we were able to upgrade at Verizon and I convinced her to get the Droids, I got the X and she got the Droid 2 with the slide keyboard. She loved her LG Env3 and kept fighting me that she didn't need a smartphone. I think she uses hers more than I use mine but we got them because I needed internet access for work email. The kids now use the Env3 as their phone. She doesn't like to admit it but she loves her phone.
This week was good, I got a lot done. I worked on our lawn mower- replaced the fuel line, blade, filter and cleaned out the engine. It runs like new, one pull and it roars to life. If I could get it to self-propel like it's supposed to...
Jess wanted to park her car, she complains whenever there is frost or ice on her car. "I wish I could have
parked in the garage." So, I made her a spot and then when I tell her I don't know where I'm going to put my weight bench that is still at my mom's house, she says put it where the car would go. ARGH! Woman! She wants to put an elliptical machine in there too, when we bite the bullet and get her one. She wants a Schwinn but she won't buy it for herself. She has a hard time buying anything for herself.
I've been watching cooking shows to become better and Paula Deen has got it made. She's got the Kill Bill hattori-something knife to chop everything, the fridgerated drawer right at her station and she used a whole stick of butter mashed rutabaga. Oooh, this, oooh that. If you're a guy, you know where I'm going with this...the woman talks like she's... She's less annoying to me than the Neely's and the way they go on.
Jess and I get to spend the weekend alone, Friday was horrible with Camille getting hurt. Saturday (yesterday) was my faux-bro's birthday. Our family adopted him in high school and he came to live with us. We had a family get together last night and after a couple hours of Dead Space 2 and Call of Duty Black Ops with the split screen- whadya expect when 5 guys get together, it was time to go. My younger bro and faux bro went out and we headed home. We were talking about games coming out and my cousin pulled out his GameInformer out and Jess started laughing when she saw the cover.
What's so funny? She said that we play the same game just we packaged with a few different elements, over and over again. We were playing Black Ops. She laughed and called us all a bunch of 'suckas'. (
Jessica:
Really, what is the difference between Call of Duty, Battlefield, HomeFront- it's all the same game just packaged a
little
differently!!!)
Until later...